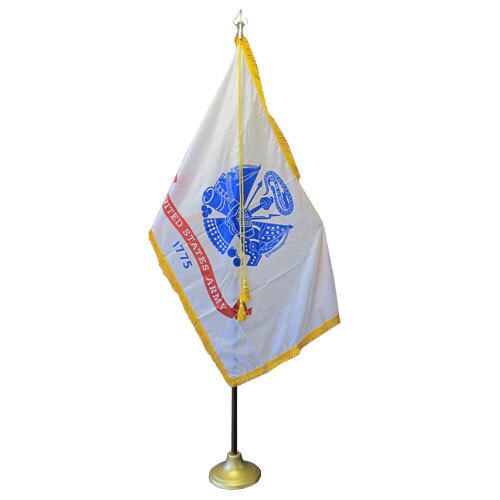 Indoor U.S. Army Flag Kit - Brigadier™
Details
Full Product Details for Our Brigadier™ Indoor US Army Flag Kit:
Our Brigadier™ US Army flag sets create classic indoor flag displays that elevate the look of your office, school, or stage. Perfect for people who want to create an indoor Army flag display, this product comes with top-quality, easy-to-assemble components that anyone can put together. Make your special event or parade feel extraordinary with these military flag sets!


Includes a 3'x5' US Army flag with a pole, guidon army spear topper, floor stand, gold cord, and tassel set.

8' brass jointed indoor flagpole that's removable from the flag stand

Designed for indoor and parade use

Made in the U.S.A




Why Buy Our Brigadier™ US Army Flag Kit?
Our Brigadier™ US Army flags with pole create vibrant indoor flag displays that look immaculate for years. As one of our top-selling flagpole kits, Brigadier™ sets contain extremely high-quality parts that customers hold in high regard. Click the links below to learn more about each part or to order separately.

Can I Purchase a Cheaper Army Indoor Flag Set?
Our Army Oak Jointed Flagpole Set is cheaper than the Brigadier™ set. Brass jointed sets come with a plastic spear topper and an 8lb gold-plastic floor stand. These flagpole sets also double as parade and indoor flag sets.
Indoor US Army Flag Kit FAQ
Fill out our contact us form to learn more about our Brigadier™ indoor military flags sets and to speak with a Flag Pro.
1. Can I use this flag set as a parade flag?
The Brigadier™ indoor flag sets serve a dual purpose as parade flag sets. For those interested in using our indoor US Army flag kit during parades, the flagpole can be unscrewed from the base and held upright for display. Those who want a flag set that's explicitly designed for parade use can buy our jointed oak Army parade pole set. This set includes a plastic flagpole topper, a parade belt, and a storage cover.
2. What minimum ceiling clearance do I need to display this US Army flag kit?
To comfortably show this indoor flag kit, you'll need a ceiling clearance of at least 9'1". The flagpole measures 8' in height, and the flagpole topper adds another 7". A gap of around 6" from the top of your flagpole set will help prevent accidentally scraping or damaging your ceiling.
3. What is the correct military flags flying order?
Please display your military flags in the following order to avoid violating US flag code. The US flag should hold the left-most position when viewed from the audience.


United States flag

State flag

POW/MIA flag

U.S. Army flag

U.S. Marine Corps flag

U.S. Navy flag

U.S. Air Force flag

U.S. Space Force flag

U.S. Coast Guard flag
Check Out These Related Products!
Discover why our military flag products are renowned for their exceptional quality and durability. Shop online to view our complete flag selection and experience why government agencies rely on Carrot-Top for their flag-buying needs.
Outdoor U.S. Army flags
Our outdoor Army flags are available in six sizes and three excellent fabrics. The heavy-duty Patriarch® polyester and Tough Ply-Poly flags can withstand strong winds, while the nylon flags are great for areas with milder weather. Each outdoor flag has a strong canvas header and brass grommets for durability.
Flag cases
Showcase a deceased US Army veteran's casket flag with an Army mahogany medallion flag display case. Flag display cases create touching tributes to former members of the US military.
Other U.S. Army flag products
Mark the gravesite of a beloved family member with Army stick flags. For the full list of US Army-related products, check out our Army flag category page.
Celebrate the U.S. Army with Carrot-Top!
Carrot-Top is a top supplier of flags and patriotic items. We have a variety of products like military flags, religious flags, historical flags, classroom flags, state flag sets, and more. Our most popular flag is the Beacon® Nylon American Flag, loved by customers for its strength and all-weather use. To order our products, simply visit the desired page, click "add to cart," and proceed to checkout. If you need assistance or have any questions, feel free to reach out to our Flag Pros through our contact us form. We're happy to help you shop!