How To Choose The Best American Flags For Your Display Needs
Published on
October 11, 2021 at 3:43:33 PM PDT October 11, 2021 at 3:43:33 PM PDTth, October 11, 2021 at 3:43:33 PM PDT
Hanging an American flag is an easy decision. The hard part is choosing the right flag to hang. How do you determine the best flag size and material for your display? Fortunately, we have over 40 years of flag industry experience helping our customers create the perfect flag display for their location, and we can help you choose the best American flag for your location as well.
CHOOSING YOUR U.S. FLAG SIZE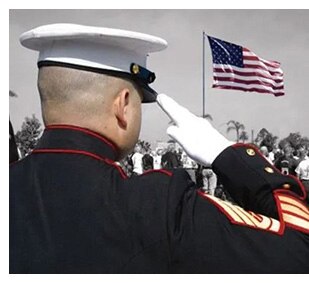 Government Specified (G-Spec) Flags
According to 4 U.S.C. §, the proper proportions of any government specification (G-spec) flag is a 1:1.9 ratio (hoist=width:fly=length). Each stripe should be 1/13 the width of the hoist (the width of the flag from top to bottom), and each star should be 4/5 the width of a stripe. The union (the blue part of the flag), also known as the canton, should be the width of seven stripes and 2/5 the length of the fly (the length of the flag from left to right).
If you plan to fly a U.S. flag at a government agency or military base, Executive Order 10834 specifies you should only fly the following government specified flag sizes:
Hoist (Width) x Fly (Length)
20' x 38'
10' x 19'
8.95' x 17'
7' x 11'
5' x 9.5' - This is the traditional U.S. casket flag size presented to the families of deceased veterans or draped over a casket at a military burial service. This is also the size flag presented to U.S. Armed Forces veterans.
4.33' x 5.5'
3.5' x 6.65'
3' x 4'
3' x 5.7'
2.37' x 4.5'
1.32' x 2.5'
If you aren't buying your flag for a government agency or military base, you can be more flexible with your flag size choice. Typically, U.S. flags that are flown from a flagpole come in sizes from 2' x 3' up to 12' x 18'; however, some people fly flags as large as 50' x 80' from a flagpole. We currently sell the following outdoor and indoor American flag sizes:
2' x 3'
2' 4 7/16" x 4' 6"
2' 6" x 4'
3' x 5'
3' 6" x 6' 7 ¾"
4' x 6'
4' 4" x 5' 6" - indoor U.S. flag only
5' x 8'
5' x 9' 6"
6' x 10'
8' x 12'
8' 11 3/8" x 17'
10' x 15'
10' x 19'
12' x 18'
15' x 25'
20' x 30'
20' x 38'
25' x 40'
30' x 50'
30' x 60'
50' x 80'
Knowing what flag size to purchase is based on whether you have an existing flagpole or will be purchasing a new flagpole. You need to know your flagpole size to determine the flag size you should purchase.
IF YOU HAVE AN EXISTING FLAGPOLE
As a general rule, the length (from left to right) of your U.S. flag should be approximately a quarter of the height of the flagpole. The width (from top to bottom) of the flag should be about 1/4 the height of the flagpole. For an outdoor flag display, you would pair the most common flag size (3' x 5') with a 20' flagpole. The 3' x 5' flag is also recommended for most homes since it can be flown from a home-mounted flagpole. For the next standard size (4' x 6'), you would upgrade to a 25' pole. A flag's width should never be more than 1/3 of its flagpole's height.
You may also plan to display your flag on an indoor flagpole. Many of our indoor flagpoles include a flag, cord and tassel, weighted base and ornamental topper. Our indoor flagpoles come in the following heights: 6', 7', 8', 8' 9", 9', 9' 6" and 12' sizes. Most indoor U.S. flag that are displayed on indoor flagpoles come in the following sizes:
2' x 3'
2' 6" x 4' - government specified size
3' x 5'
4' x 6'
4' 4" x 5' 6" - government specified size
5' x 8'
It's important to buy the correct size flag for your flagpole for several reasons. If a flag is too small for your pole, it will look out of proportion to your flagpole or surrounding buildings. If your flag is too big for your flagpole, it may hang too low and touch bushes, trees or the ground. This will shorten the life of your flag. If your flag is too large it could also be too heavy and damage your pole. This will shorten the life of your flagpole. You also need to know if you plan to fly your U.S. flag with another flag on the same flagpole which is common on outdoor poles. According to the U.S. Flag Code, the U.S. flag should be one size larger than any additional flag placed on the same flagpole.
Your existing outdoor in-ground flagpole's height, butt diameter (flagpole base/bottom) and wall (shaft) thickness will help you determine the maximum size flag it can handle. Each flagpole size has a corresponding recommended flag size. See the chart below for the best flag size for each flagpole size.
Determining Your Outdoor In-Ground Flagpole Height: A flagpole's above-ground height refers to the measurement from the ground to the flagpole's top. You can determine your flagpole's height a few ways:
You can attach a string or fishing line to a helium balloon and let the balloon float up to the flagpole's top. Measure the balloon's string to determine the flagpole height.
Measure the length of your halyard rope and divide the number by two and add five feet.
Insert a broom handle, straight stick or yard stick in the ground somewhere close to your flagpole so the shadows from the flagpole and stick are parallel. Make sure the stick is straight and perpendicular (a 90-degree angle) to the ground. Measure the length of the stick shadow and the flagpole shadow. Divide the flagpole shadow by the stick shadow. Then multiply that number by the height of the stick to get the height of your flagpole. For example: flagpole shadow 33 / stick shadow 3.3 = 10 x stick height 3 = 30 feet. 30 feet is the flagpole height.
Determining Your Outdoor In-Ground Flagpole Butt (Base/Bottom) Diameter: As close to the ground as you can manage, measure around the circumference of the flagpole with a measuring tape. You can then divide this circumference by pi (3.14) to determine diameter.
If you need further assistance determining how to measure the height and butt diameter of your outdoor flagpole, call 800-628-3524 and one of our Account Representative Specialists will help you.
IF YOU DON'T HAVE A FLAGPOLE
If you don't have a flagpole yet, you will need to determine what type of pole you want to hang your flag from. Do you want an indoor or outdoor flagpole? Do you want your pole attached to a building, like a home? Then an outrigger pole would be able to handle a 3' x 5' flag or you could buy an American flag set which includes a flag, flagpole and bracket holder. If you want to install an in-ground flagpole, you would need to determine what size pole would work with your location and weather. Generally, your flagpole should be at least 5'-10' taller than your surroundings to avoid wind blockage and provide a greater visual impact. You should also consider the maximum wind gusts at your location to ensure your flagpole is made from a strong enough material to withstand your local winds.
You may use our Flagpole Display Planning and Flagpole Buying Tips resource guides to help you determine the best flagpole for you. If you need further assistance determining the right flagpole for your location, call 800-628-3524 and one of our Account Representative Specialists will help find the perfect flagpole for you.
CHOOSING YOUR U.S. FLAG MATERIAL
Once you have chosen the best size U.S. flag for your flagpole, you need to determine the best flag material for your display. Your local weather and peak wind speed will be the main two factors in determining the best flag material for your purchase.
The material your flag is made of should allow it to fly freely while withstanding the elements of the environment you're displaying it in. If the material is too heavy to fly or so light it gets torn in the wind, your patriotic display will not be what you envisioned. Of course, if you're purchasing a flag for indoor display, the wind and weather aren't an issue.
The most common American flag materials are nylon, polyester and cotton. While flags made from these three different fabrics are similar in appearance, each material offers a unique set of product advantages and disadvantages. Below is an overview of three different flag fabric options along with information about which fabric is best suited for which display environment:
Nylon Flags
Nylon flags are crafted from tightly woven lightweight and quick-drying 200 denier nylon fabric. Nylon fabric is a great choice for light to moderate wind areas and flies effortlessly in the slightest breeze.
Advantages
Lightweight, strong material
Shiny finish that glistens brilliantly in the sunlight
Ideal for indoor or outdoor display
Withstands mild to moderate wind, rain, sunlight and snow
Disadvantages
Not recommended for display in areas with high winds, such as coastal or mountain regions or extreme weather
Polyester Flags
Polyester flags are made of tough, skillfully woven two-ply polyester with a "cotton-like" texture and superior strength. Polyester fabric is durable and the best choice for windy, coastal and extreme weather conditions.
Advantages
Heavyweight material
Matte finish
Ideal for indoor or outdoor display
Withstands strong winds and extreme weather conditions such as those found in coastal or mountain areas
Disadvantages
Heavy material requires considerable wind speed to fly or wave
Cotton Flags
The original fabric choice for flag manufacturers, cotton is an organic fabric that is rugged yet lacks colorfastness.
Advantages
Heavyweight material
Matte finish
Ideal for parades, long-term indoor displays or short-term outdoor displays in dry weather
Disadvantages
Not intended for all-weather use since colors of the flag may bleed when wet
Easily wrinkles
Long-term sun exposure may damage the fabric or cause the dyed fabric to fade
OTHER IMPORTANT FLAG PARTS TO CONSIDER
Flag Header and Grommets: A header with grommets comes standard on our flags all the way up to the 6' x 10' size flag and are used to attach the flag to the flagpole. This is the most popular way to attach a flag to a pole. The header is a heavy-duty, folded canvas fabric (usually white) on the left side of the flag. It is sewn on to the entire length of the flag and holds the flag securely to the rope line (halyard) attached to the flagpole. The brass grommets are circular rings permanently inserted on the header of the flag which allow you to clip or tie your flag to the flagpole's rope line (halyard). A flag usually has two grommets in the header.
Flag Thimbles and Rope: Flags larger than 6' x 10' have a nylon rope reinforced with a galvanized metal thimble to support heavier flags. Thimbles at the top and bottom of your flag keep your larger flags flying proud.
Flag Sleeves: Sleeves on flags provide an alternative way to attach your flag to your flagpole instead of the typical header and grommets or thimbles and rope. A pole sleeve is open on the top to allow the flagpole to slide through the sleeve so you can attach a topper like an eagle or spear. Flags with sleeves can be used on indoor or outdoor flagpoles. For outdoor flagpoles mounted on a building front (typically at a 45 degree angle), the best flag is one with an unlined pole sleeve. The banner-like flag easily slides over a 1" diameter flagpole.
Flag Gold Fringe: Gold fringe is normally only used for indoor or parade flags. Gold fringe is used as an honorable enrichment. In 1895, it was officially added to the Army national flag (all regiments). Some Army regulations state that gold fringe should be used for indoor and ceremonial flags, but no reason is given. Gold fringe is optional, decorative and not required for civilian use but is permitted under the rules of flag etiquette.
Whichever American flag size and material you choose, we know you will be happy with your purchase. Carrot-Top offers our exclusive Beacon® Nylon American flag and Patriarch® Polyester American flags which offer an industry-best, six-month guarantee against defects, fading and tearing from the date of your purchase. Look for our "Industry's Best Six-Month Guarantee" logo on our most popular flags to ensure you purchase a flag with fade-resistant colors, durable fabric and fray-resistant stitching. We are committed to your satisfaction.
If you need further assistance determining the right U.S. flag size for your indoor or outdoor flagpole, call 800-628-3524 and one of our Account Representative Specialists will help you.
Online Resources:
https://uscode.house.gov/view.xhtml?path=/prelim@title4/chapter1&edition=prelim
https://www.govinfo.gov/content/pkg/USCODE-2011-title4/pdf/USCODE-2011-title4-chap1.pdf
Email us at marketing@carrot-top.com to share your comments or questions about this blog. You may also email us if y ou have a topic you would like us to cover or are interested in submitting an article as a guest writer