Carrot-Top's Most Wanted: 15 Of Our Most Popular Products To Consider Adding To Your Shopping Cart Or Wish List
Published on
May 3, 2021 at 9:43:00 PM PDT May 3, 2021 at 9:43:00 PM PDTrd, May 3, 2021 at 9:43:00 PM PDT
As Americans, we enjoy reading lists such as the Consumer Reports Best Products list, New York Times Best Sellers list and Billboard's Hot 100 list.Perhaps our attraction to these lists is that they give us insights into products and services valued by others. After all, in a free enterprise system that bombards us with choices, ranked lists help us to quickly identify "the best of the best" products and services so we can narrow the selection field. Below is a list of Carrot-Top Industries' most popular products. As you review this list, do you see any "must-have" flag-related products that you would like to add to either your shopping cart or wish list?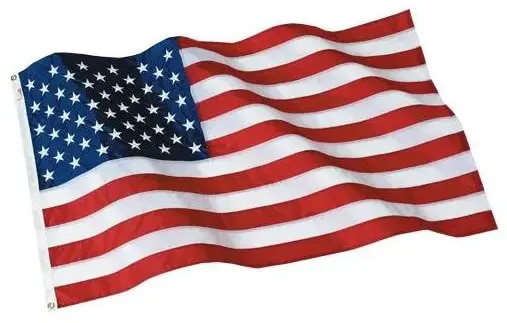 5' x 8' Patriarch® Polyester American Flag
Show your American pride! This exterior American flag is not too large, not too small, but just the right size for display on a 30' - 35' tall flagpole. Its two-ply polyester material is ideal for extreme weather conditions and the four rows of stitching on its fly end prevent fraying. Made in the U.S.A., this American flag features a reinforced heading and two grommets for easy attachment to any flagpole. In addition, this flag is covered by a six-month guarantee against defects, fading or tearing, starting from the date of purchase.
3' x 5' Custom Beacon® Nylon Flag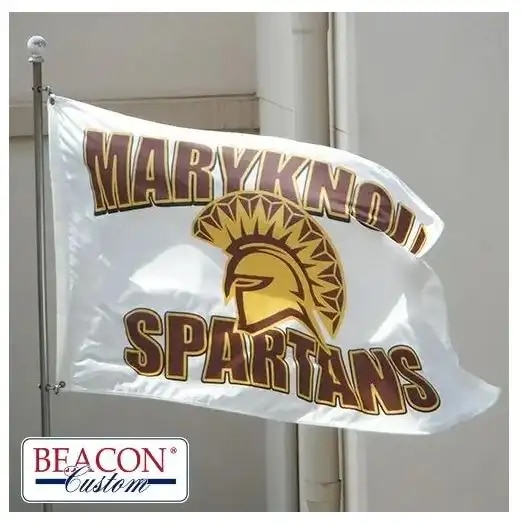 If you have a brand you want to promote or a message you want to share, producing a 3' x 5' custom flag is the best way to do it. Made in the U.S.A., this outdoor flag features a strong canvas header and solid brass grommets to help ensure a long life and is covered by a six-month guarantee. This flag is made with two rows of stitching on the header side and top and bottom of the flag, and four rows of stitching on the fly end to prevent fraying. This lightweight, 200 denier nylon flag dries quickly, which allows it to fly in the lightest winds. Let your creativity run wild and use our 3' x 5' Custom Beacon® nylon outdoor flag to make your one-of-a-kind flag dreams become a reality.
5' x 8' Patriarch® Polyester Texas State Flag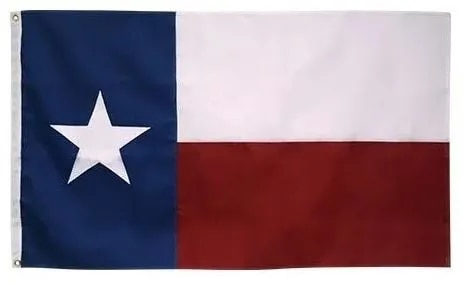 Residents of the Lone Star state love their flag. Our 5' x 8' Patriarch® polyester outdoor Texas state flag is, hands down, our best seller across all of our state flags. The 5' x 8' size makes it a perfect fit to display on a 30' - 35' flagpole. This tough, two-ply Patriarch polyester flag is built to last. It features bold, bright, fade-resistant colors as well as exquisite lock stitching that prevents fraying. Made in the U.S.A., our 5' x 8' Patriarch polyester Texas flag also features an industry-best, six-month guarantee.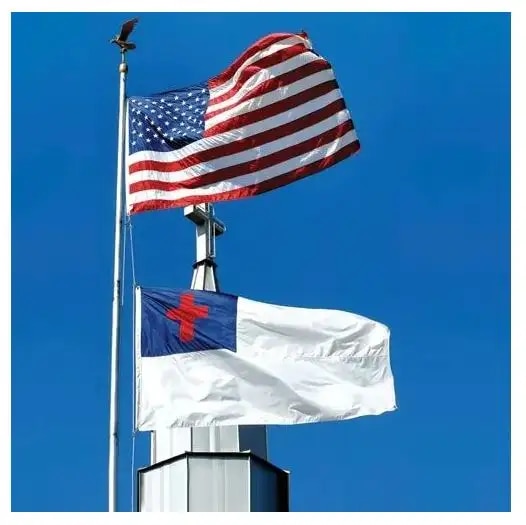 3' x 5' Polyester Outdoor Christian Flag
A popular choice of churches across America, our polyester outdoor Christian flag is made of tough, durable woven polyester that has the feel and texture of cotton. These flags are finished with a reinforced header, brass grommets and fray-resistant stitching. Made in the U.S.A., Carrot-Top's 3' x 5' polyester outdoor Christian flags are built to withstand the elements of more severe climate areas including coastal zones with strong winds.
3' x 5' Nylon Armed Forces Outdoor Flag Set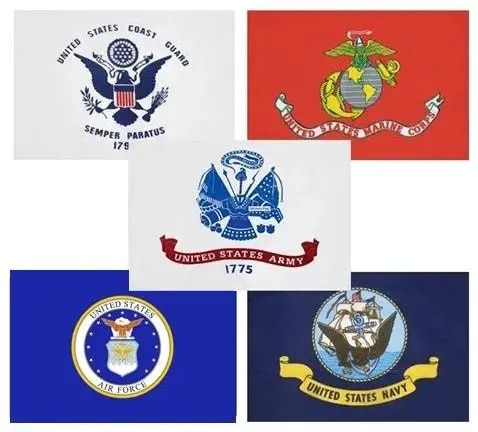 Displaying a 3' x 5' outdoor Armed Forces flag set is a patriotic way to show your support for active duty and retired members of the U.S. military. This flag set includes Army, Marine Corps, Navy, Air Force and Coast Guard flags. Each nylon flag in the set is made in the U.S.A. and is single-sided, strong, durable and features vibrant colors that glisten brilliantly in sunlight. This flag set is ideal for outdoor display at military bases, government offices and veteran organizations. It may also be purchased for personal display or you may choose to give each individual flag to a friend or family member who is part of each respective military branch. You may fly each flag on a separate flagpole or choose one flag from the set to fly on a 25' or taller flagpole alongside a 4' x 6' U.S. flag. These 200 denier nylon flags are strong, lightweight and durable. They are also ideal for wet weather conditions since they dry quickly and wave effortlessly in the slightest breeze.

3' x 5' Nylon Indoor U.S. Flag Set with 8' Jointed Oak Flagpole with Brass Finish Metal Joint
It's one-stop shopping at its best! Carrot-Top's indoor U.S. flag set includes both a 3' x 5' Beacon® nylon U.S. Flag, that offers a six-month guarantee, and a jointed oak flagpole. Use this flag set to display the American flag in a courtroom, office, classroom, house of worship or auditorium. It is also ideal for use in parades. For ease of shipping and transport, this set's polished oak flagpole comes in two separate parts, along with your choice of either a brass or a chrome metal joint that allows you to screw the two parts securely into place. Additional contents of this indoor flag set include a gold cord with a 5" gold tassel, a gold plastic eagle ornament and a weighted floor stand. This set's flag, flagpole and gold cord are proudly made in the U.S.A.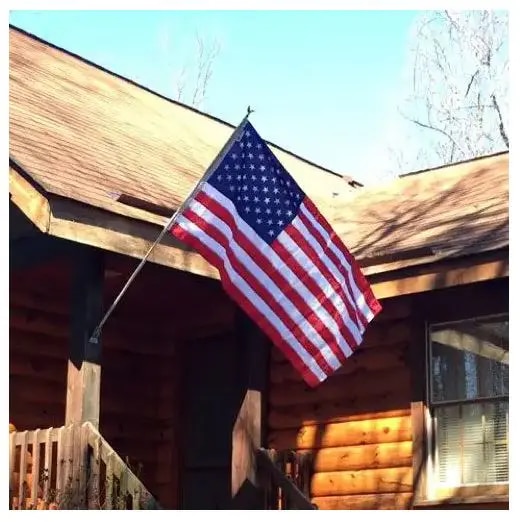 3' x 5' Nylon Outdoor U.S. Flag Set with Wall-Mounting Bracket
Another popular one-stop shopping option, our outdoor U.S. flag set features a 3'x 5' Beacon® Nylon American flag, a 6' aluminum pole, a 5" matte-finished plastic eagle, two flag collars and a wall-mounting bracket, complete with all needed hardware for installation on a wooden surface. This kit's 3' x 5' Beacon® Nylon American flag is made in the U.S.A.and offers a six-month guarantee. The flag features vivid colors, is fade resistant, sturdy and lightweight, which allows it to flutter and fly in the slightest breeze. In addition, this kit's wall bracket is designed to display the flag at a 45-degree angle and is specially designed to accommodate the aluminum pole's 0.75" diameter. This affordable and easy-to-use flag set is a Carrot-Top exclusive.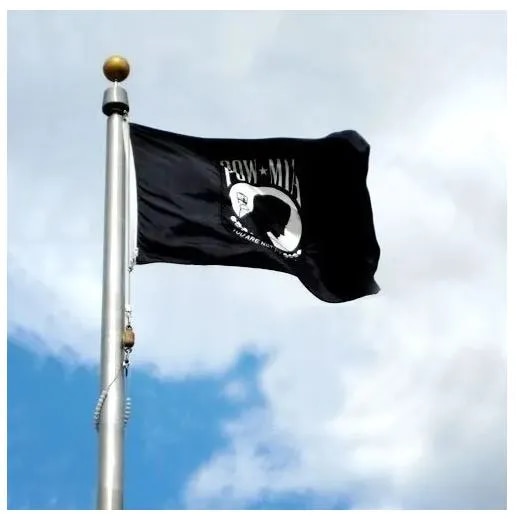 3' x 5' Outdoor Beacon® Nylon Double-Sided POW/MIA Flag
We will never forget! Displaying a POW/MIA flag is a powerful way of remembering military heroes who were unaccounted for in the Vietnam War and all subsequent wars. Carrot-Top's 3' x 5' Beacon® nylon POW/MIA flag is digitally printed on 200 denier nylon. Its double-sided design means that the POW/MIA emblem will display correctly on both sides. Our double-sided flags are actually two flags that are stitched together, with a third layer of thin material between the two flags. As a result, these flags are heavier and require more wind to flutter and fly.
3' x 5' Outdoor Nylon Fire Department Flag
Our nylon fire department flags are perfect for your local firehouse, business or home. By displaying a fire department flag, you are showing your support for the men and the women who devote their lives to protecting our communities, citizens and property. Perfect for both ceremonial and outdoor use, these fire department flags are made of a durable, lightweight nylon. Carrot-Top's outdoor fire department flag is finished with a reinforced canvas header and solid brass grommets so that it easily attaches to any flagpole. In contrast, our indoor fire department flag is finished with a pole sleeve and gold fringe and is ideal for indoor display and for use in parades and ceremonies.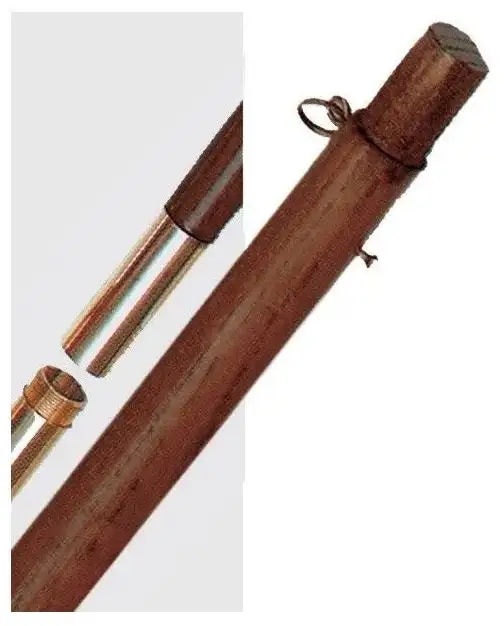 8' x 1.25" Brass Jointed Solid Oak Flagpole
It's the top choice of wooden flagpoles. Carrot-Top's brass jointed solid oak indoor flagpole is widely regarded as the traditional standard for either a parade or an indoor flagpole. These polished solid oak flagpoles are intended for parade use in traditional or special events and are great for flying any flag whether it's a national, military or custom-made flag. Each hardwood indoor flagpole comes in two separate parts and includes either a brass or a chrome joint that screws into place and allows the two parts to come together as one. Each jointed oak flagpole also comes complete with a flag-mounting screw and tassel ring.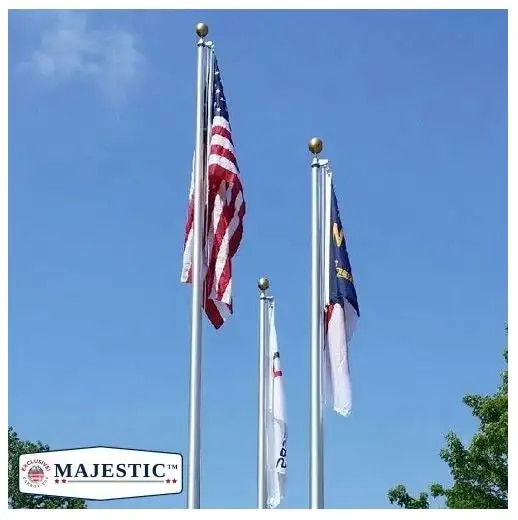 25' MajesticTM Commercial Aluminum Flagpole with Satin Finish
Our 25' Majestic™ commercial aluminum flagpole with satin finish is value-priced, made in the U.S.A. and features a lifetime shaft warranty. This well-constructed, durable flagpole has a 5" base, is 3" at its uppermost point and has a 0.125" shaft wall. It is well-suited for areas with light to moderate winds, looks great after years of exposure to the elements and is ideal for flying a 4' x 6' flag (or a flag as large as 5' x 8' in low-wind areas). It is also the perfect height for two- to three-story schools, office buildings, factories and other institutional or commercial settings. The satin finish is the most popular, but other finishes are also available including clear anodized, bronze anodized and black anodized. An anodized finish and special coating enhance the flagpole's resistance to corrosion. In addition, any flag you fly on an anodized flagpole will last longer since its finish prevents the flag from being stained or damaged by snags on a rough, corroded flagpole surface. This flagpole kit also includes the following components: gold ball ornament top, 9" aluminum cleat, two snap hooks (for attaching the flag to the flagpole's halyard system), your choice of a white or a black halyard, flagpole truck, flash collar and a PVC pipe foundation sleeve that is 2.5' x 0.5'. Depending on the flagpole finish selected, the truck, halyard and cleat will come with a matching finish.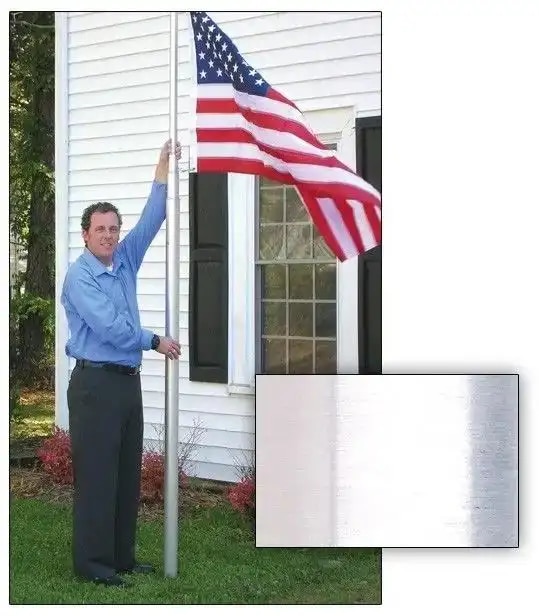 20' Satin Adjustable Telescoping Flagpole with U.S. Flag
Carrot-Top's 20' telescoping flagpole is a customer favorite because of both its versatility and its ease of use. Plus, it includes a 3' x 5' nylon U.S. flag with embroidered stars and sewn stripes. This residential, adjustable flagpole has four telescoping segments that can be set at several different heights. Its adjustable design allows it to be set at anywhere from 9' to 20' in height. Since you can collapse the flagpole's sections to either change or attach a flag, no halyard rope is necessary. This telescoping flagpole's childproof locking collars prevent accidental adjustments. In addition, this flagpole has a 2.625" base, a 1.5" top and a 0.0625" shaft wall. These product specifications make this flagpole an ideal choice for low-wind environments. Proudly made in the U.S.A., this flagpole is covered by a five-year warranty and features an anodized satin finish that increases its corrosion resistance. This telescoping flagpole is also available in a bronze finish or white finish. The telescoping flagpole comes with all parts needed for setup and display: a 3" gold ball top ornament, four snap hooks, swivels (lower, double and top) and a ground sleeve.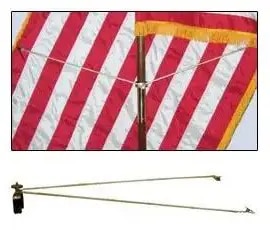 Indoor Flag Spreader for Mounting Set
Do you have an indoor flag whose beauty is hidden by its limp, bundled stance? Then, consider adding a flag spreader to your indoor flag display! Our flag spreader is designed to securely and fully display either a 3' x 5' or a 4' x 6' flag. It can be used with flagpoles that have a diameter between 1" and 1.25". To attach a flag spreader to an indoor flagpole, simply place the spreader's clamp at the desired height on your flagpole and use your fingers to tighten the clamp's screw for a secure hold. The flag spreader's adjustable arms are 18" in length and feature easy-to-use clips at each end in order to support and to uplift each end of your indoor flag. When completely outstretched, the flag spreader measures 38" in width. It weighs just 0.5lbs and places no extra strain on a flagpole. Our popular flag spreader is made of solid steel and is built to last.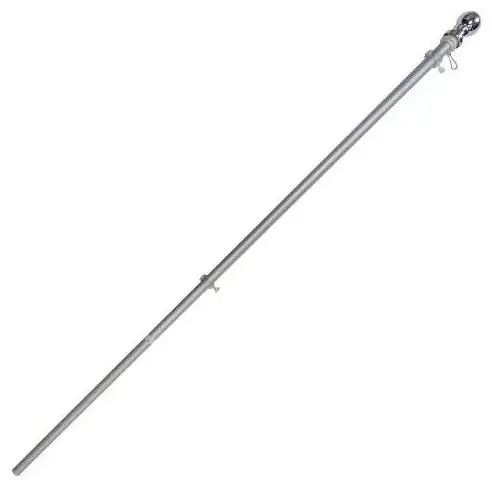 6' Aluminum Outrigger Flagpole with Silver Ball Top
Frustrated by a wall-mounted flag that repeatedly tangles? Then give this economical, crowd-pleasing flagpole a spin! Our 6' free-spinning aluminum flagpole is a perfect choice for those looking to mount a 3' x 5' nylon flag on the front of their house or business. This flagpole has a 1" diameter and can be wall-mounted or used on a street pole/post when paired with a bracket. Its innovative design allows the flagpole to spin 360-degrees, which prevents the flag from tangling or snagging in high winds. This flagpole also features stainless steel snaps, plastic flag collars and a silver ball top. For easy storage and added portability, this flagpole comes in two pieces, which may be quickly assembled by twisting together the two threaded joints.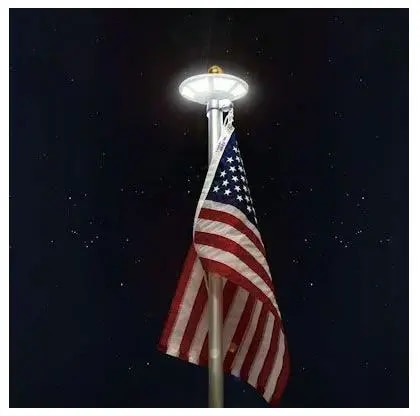 Let there be light! Our solar flagpole light disk offers 800 lumens of bright, continuous illumination for your exterior flag display while also meeting the flag code lighting requirements for both residential and commercial flag displays. Designed for use with flagpoles up to 30' high, this solar disk flagpole light features 120 LEDs in eight different self-charging panels. (The solar panel is 5.5V 5.2W with a 3.7V 5200mAh lithium battery.) No wiring is needed, and installation is easy. All you have to do is place the solar flagpole light disk on the top of your flagpole, with the spindle of the ball going through the middle of the light.
If reviewing our "most wanted" list has sparked your interest in a new, flag-related product, Carrot-Top Industries welcomes the opportunity to meet your flag needs. We offer a wide variety of American flags, state flags, POW/MIA flags and military branch flags that are available for order online. Please contact our Customer Care Professionals at 800-628-3524, shop online or send us your product needs either by email or through our Contact Our Team online form. We offer fast shipping on all of our in-stock products.
Email us at marketing@carrot-top.com to share your comments or questions about this blog. You may also email us if you have a topic you would like us to cover or are interested in submitting an article as a guest writer.